Limerick LGBTI Pride Festival 2017
The dates for the Limerick LGBTI Pride Festival 2017 have been announced! The festival will run from Monday, July 10th – Sunday 16th, 2017, with the Limerick LGBTI Parade taking place on on Saturday, July 15th, 2017. Mark your calendars!!

Register your Organisation for Limerick Pride Parade 2017
Click HERE FOR REGISTRATION FORMS
TO LOOK BACK AT LAST YEARS LIMERICK LGBTI PRIDE FESTIVAL LOOK BELOW:
Limerick LGBTI Pride Festival 2016
The Limerick Pride LGBTI Festival 2016 will be taking place starting on Monday July 11 until Sunday July 17 with the Parade on Saturday July 16 and will feature a multitude of events from workshops, support meetings and discussions to evenings of music and club nights, to cater to the Pride needs of everyone.
This year's Pride will have an educational aspect. Support meetings will be held during the week for youth, adult and trans groups. There will also be free drop in HIV testing at GOSHH, 18 Davis Street on Wednesday and Thursday of Pride week. Call GOSHH at 061 314354 or email info@goshh.ie for more information.
Saturday, July 2
Mr and Ms Gay Limerick
//Best Western Pery Hotel, 9pm, €10//
The Mr and Ms Gay Limerick competition on Saturday July 2 will be held before the Limerick Pride festival at the Best Western Pery Hotel at 9pm, hosted by Paul Ryder with DJ Gary G taking to the decks at Club Milk once the winners have been crowned to entertain us with the best party music around. Tickets are priced at €10.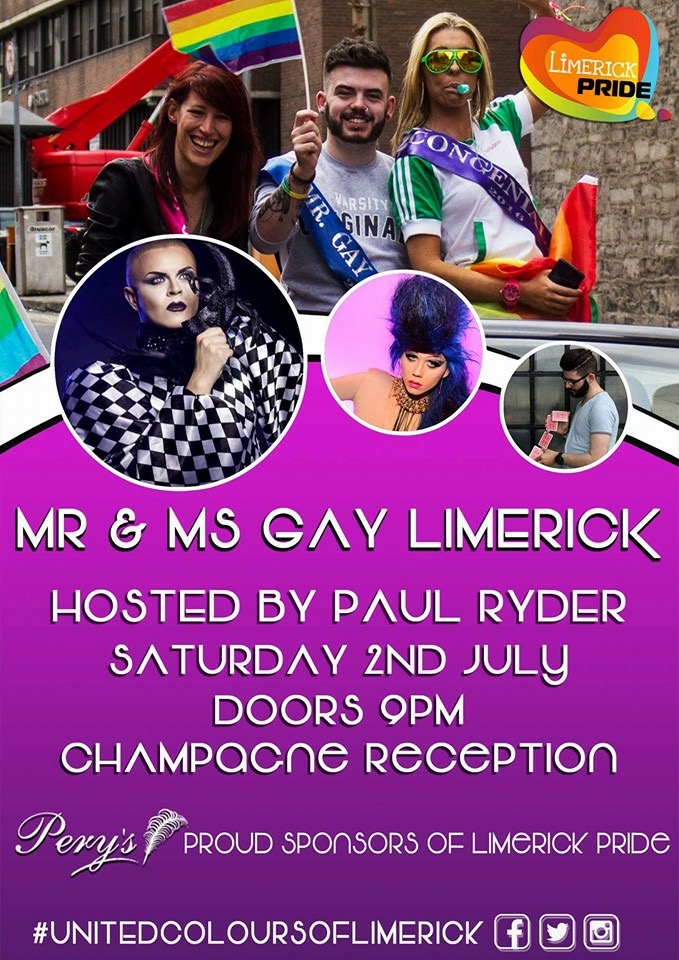 Monday, July 11
A Day in May photograph exhibtion
//Belltable, 69 O Connell Street, 6pm, free entry//
A Day in May photograph exhibition will launch in The Belltable, 69 O'Connell Street on Monday, July 11 from 6pm-7.30pm and remains open to the public until July 15 to coincide with Limerick LGBTI Pride.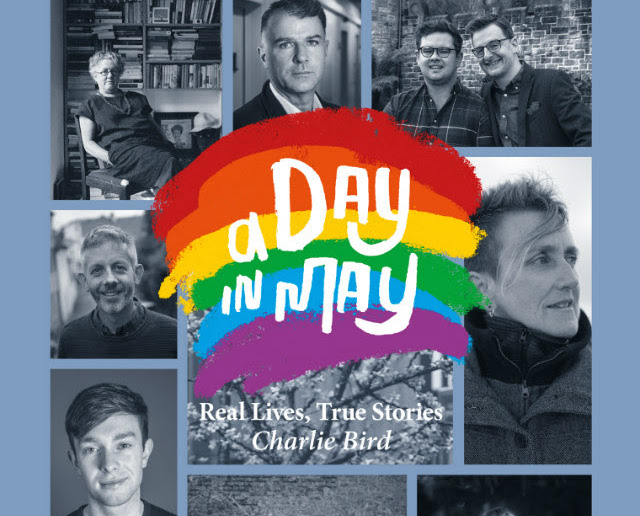 Limerick Pride official Launch
//Stroker's Bar, William Street, 9pm, free entry//
Limerick Pride official Launch night will be in Strokers Gay Bar on William Street at 9pm with champagne, finger food and dance floor musical treats. Strokers are opening 7 nights during Pride to offer something different on every night of Pride.
Tuesday, July 12
Trans Workshop
//Stroker's, 1-4pm, free entry//
Strokers Gay Bar is hosting a Trans Workshop. Whether you're interested in learning to put on make up, pick out high heels or how to create a realistic beard, this will be a very special event for you. Experts will be there to show you the skills you need to present in your gender. Contact Strokers Gay Bar to sign up for a place in this workshop.
Wednesday, July 13
Pride Wedding Show,
//Absolute Hotel, 6-8pm, free entry//
On Wednesday July 13, the Pride Wedding Show, a wedding fair established in 2014 as part of Limerick Pride Festival, will take place from 6pm to 8pm at the Absolute Hotel. Sharon McMeel, an award winning wedding planner, said about the fair: "We'll have different suppliers and vendors there, so all couples regardless of their sexual orientation will have a good opportunity to get answers to their important questions if they are considering getting married. With the historic 'Yes' vote last year for the marriage referendum, it's great to be able to look out for all the people who have gotten newly engaged." Free entry to the event and anyone looking to book a stand can email Sharon at Sharon@sharonmcmeel.ie or call 086 8524800.€75 per stand. For updated details contact visit www.theprideweddingshow.com.
Open Mic Night
//Cobblestone Joe's, Little Ellen St, 8pm, free entry//
Wednesday after the Pride Wedding Show, Cobblestone Joes is home to the Limerick Pride Open Mic night. The inclusive atmosphere of one of Limericks top music venues is the perfect fit for the #UnitedColoursofLimerick theme with all singers and musicians welcome for this fantastic music celebration. No cover charge.
Thursday July 14
Mezz Ladies Night
//The Red Hen, Patrick St, 9.30pm until Late, free entry//
Mezz Ladies Night at the Red Hen sees the comeback of the hottest night for girls who like girls with a prosecco reception, DJ and late bar with free admission.
Friday, July 15
Stanzas LGBTI Poetry Event
//Lucky Lane, Catherine St, 1pm, free entry//
Stanzas is a monthly poetry event for budding wordsmiths which has been running in Limerick for 2 years this July. Stanzas are running a special official event as part of Limerick LBTI Pride. Stanzas is an event for emerging writers to come together and express themselves in an open environment. As part of their festival of words they are calling on LGBTI writers to recite their work outside Lucky Lane at 1pm on Friday July 15. To sign up simply email stanzas.limerick@gmail.com.
Youth Pride Party
//Lava Javas Youth Café, Limerick Youth Service Lwr. Glentworth St, 5:30pm – 8:30pm, free entry//
Limerick's first Youth Pride Party in Lava Java's Youth Café in association with GOSHH & GOSHH Youth.
Music – Dance – Food – Screen Printing – Pride Parade Preperation – Information Stalls.
Safe Space Policy Lava Javas R&R's apply. R.O.A.R **Strictly no alcohol**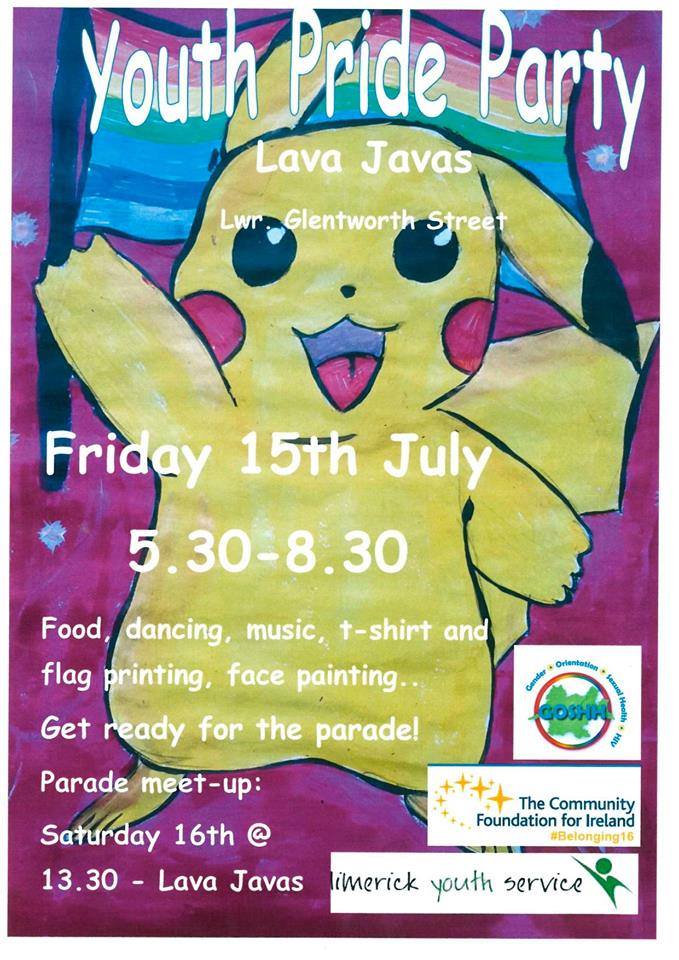 T'was the night before Pride
//Mickey Martin's, Thomas St, 9-11.30pm, free entry//
The now traditional event 'T'was the night before Pride' will take place at Mickey Martins from 9pm-11.30pm. Running since 2008, Mickey Martins return for another year to host the pre-pride party with guest DJ's and camp classics. Afterwards it's off to Club Milk's 2nd Birthday Bash with DJ Gary G.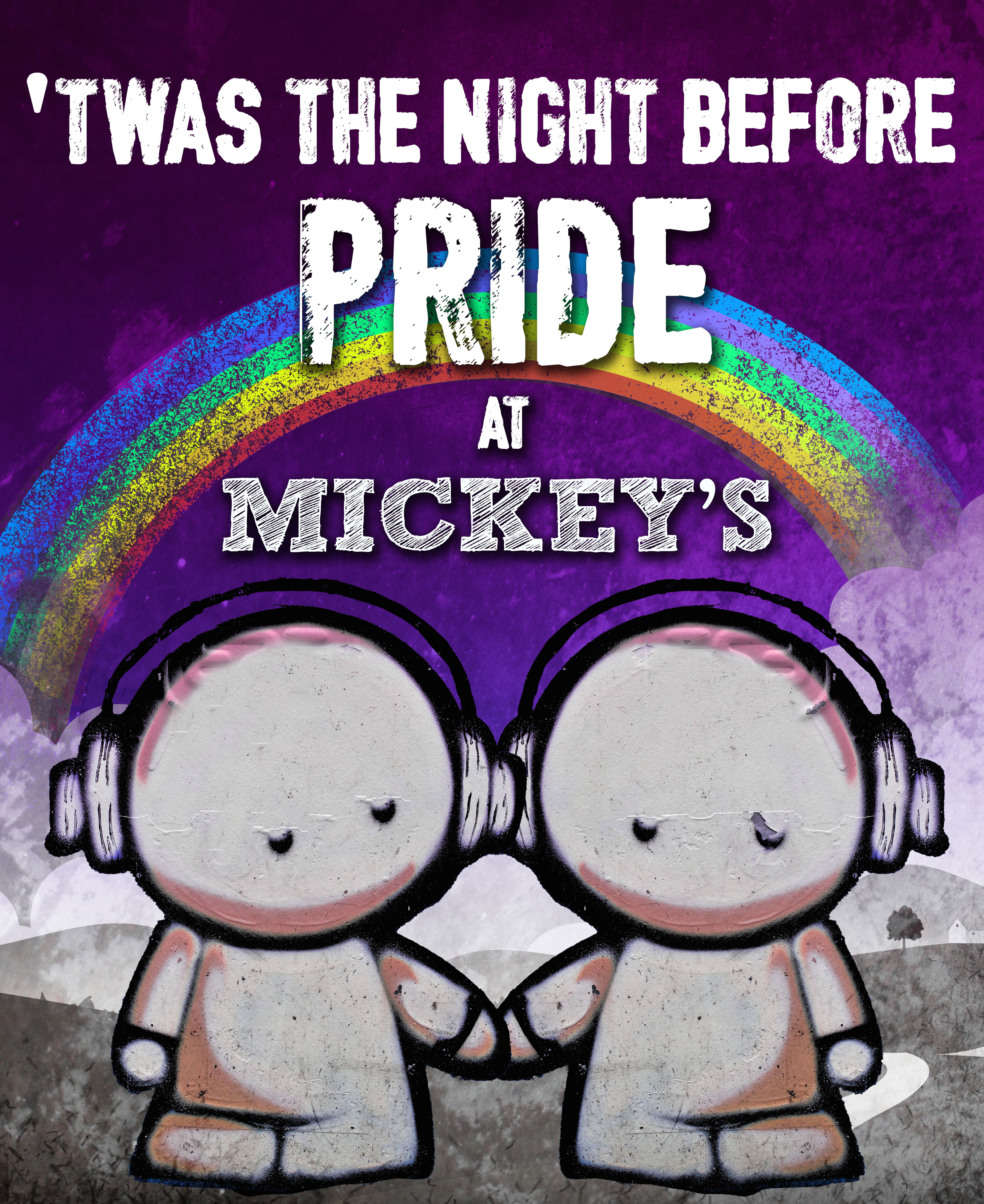 Milk Birthday Bash
//Milk, Pery Hotel, Glentworth Street, 11.30pm, €5 before 1am/
Milk Birthday Bash – Doors open straight after Mickey Martins @11.30pm. Music by DJ Gary G bringing you all the best floor fillers from the 90's to present.

Saturday, July 16
Limerick LGBTI Pride Parade
//Gathering at City Hall, 1.30pm and setting off at 2.30pm//
The annual Limerick LGBTI Pride Parade on Saturday July 16, will bring some extra colour and music to Limerick City Centre, gathering at City Hall at 1.30pm, the Parade will make its way at 2.30pm sharp up O'Connell Street, across Mallow Street to Henry Street, past Arthurs Quay Park and returning to City Hall. There will be a rainbow balloon release once the parade passes Debenhams on O Connell Street. We strongly recommend rainbow colours as our theme is #UnitedColoursofLimerick this year.
PrideFest 2016
//The Hunt Museum, 3pm to 6pm, free entry//
Showcase of local LGBT culture in Limerick in a lavish marquee in the museum gardens with host Paul Ryder. Special guests Hands in Harmony Deaf Community Choir and back by popular demand Patrick James, Voice of Ireland 2015 winner. Limerick legend, actor, director and playwright, Myles Breen will be holding his annual tea dance, which for many is a highlight of the festival.
Climax Party
//Dolan's Warehouse, Dock Rd, 10pm, €10 Presale from Dolans or €13 on the night//
Queens of Limerick, Madonna Lucia and Sheila Fitzpatrick take to the stage with local acts and the Dublin queens of Dragged Up, including Victoria Secret, Paul Ryder, Regina George and Pixie, followed by DJ Ruth on the main floor, a "Saved by the 90s" party upstairs and Madonna Lucia hosting her monthly party at Confession Club with DJ Bugsy.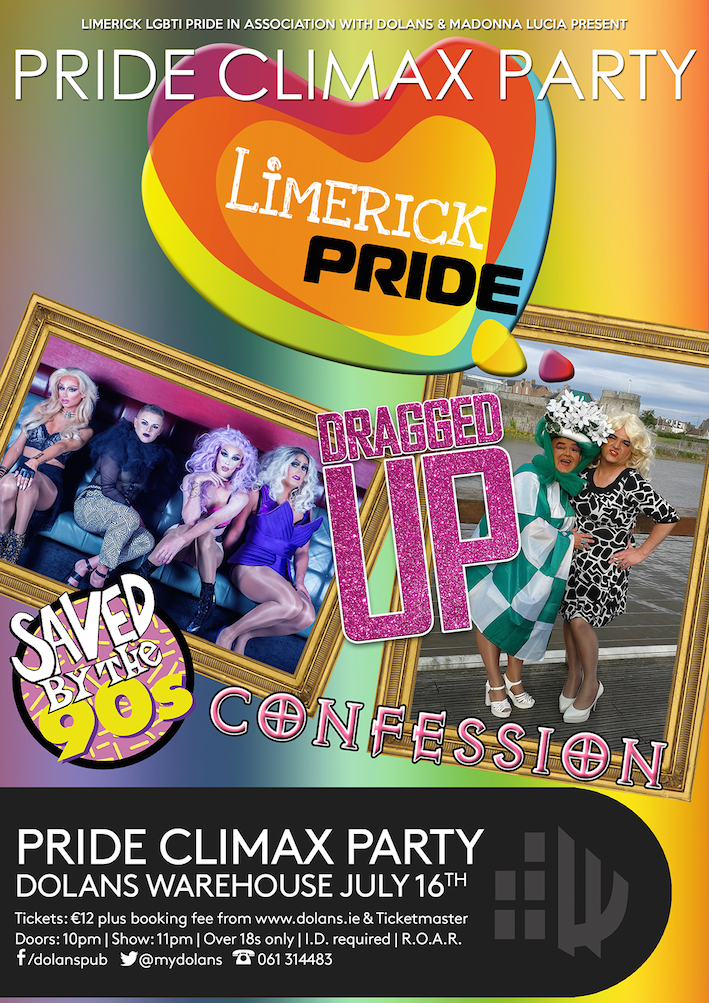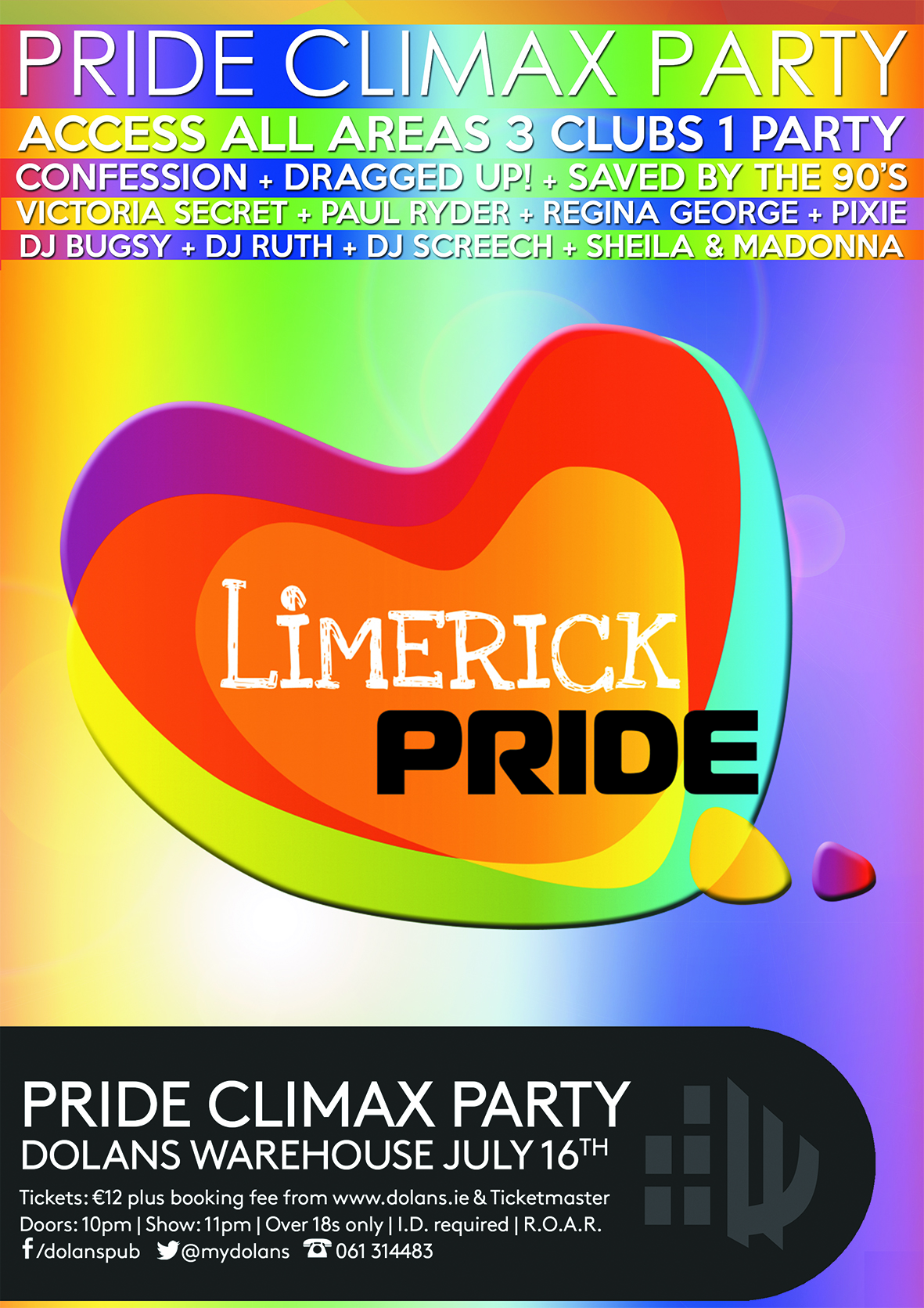 Sunday, July 17
Prideful Recovery Event
//GOSHH, 18 Davis Street from 1pm – 5pm, free entry//
Come along to GOSHH on Davis Street, Limerick for some holistic therapies including Reiki, Tarot and angel card readings. Donations welcome.
Updates at www.facebook.com/limerickpride. Tag your photos and comments about this years Pride with #UnitedColoursofLimerick.
For media inquires contact Chair@LimerickPride.ie.
GOSHH EVENT PLAN FOR PRIDE WEEK 2016
Community HIV Rapid Testing all week, possibility of testings in
venues (maybe mickey martins, dolans or strokers?)
Monday

Parents of Transgender Support group
Tuesday
Trans* tea Party 4 pm in hotel, Space for Trans* meeting.
Outlet open group for adults 6.30
Wednesday
Drop in testing in GOSHH
Thursday
Drop in testing in GOSHH
Friday
Potential evening party for youths in Limerick Youth Service (LYS) (
to be confirmed )
Saturday
Potential breakfast party for youths( to be confirmed)
Meeting at GOSHH before the parade for adult groups and LYS for youth
group
Sunday
Prideful Recovery, 1.00pm -5.00pm , GOSHH, 18 Davis Street Limerick
Sunday before pride and Sunday of pride
Testing in IKandi.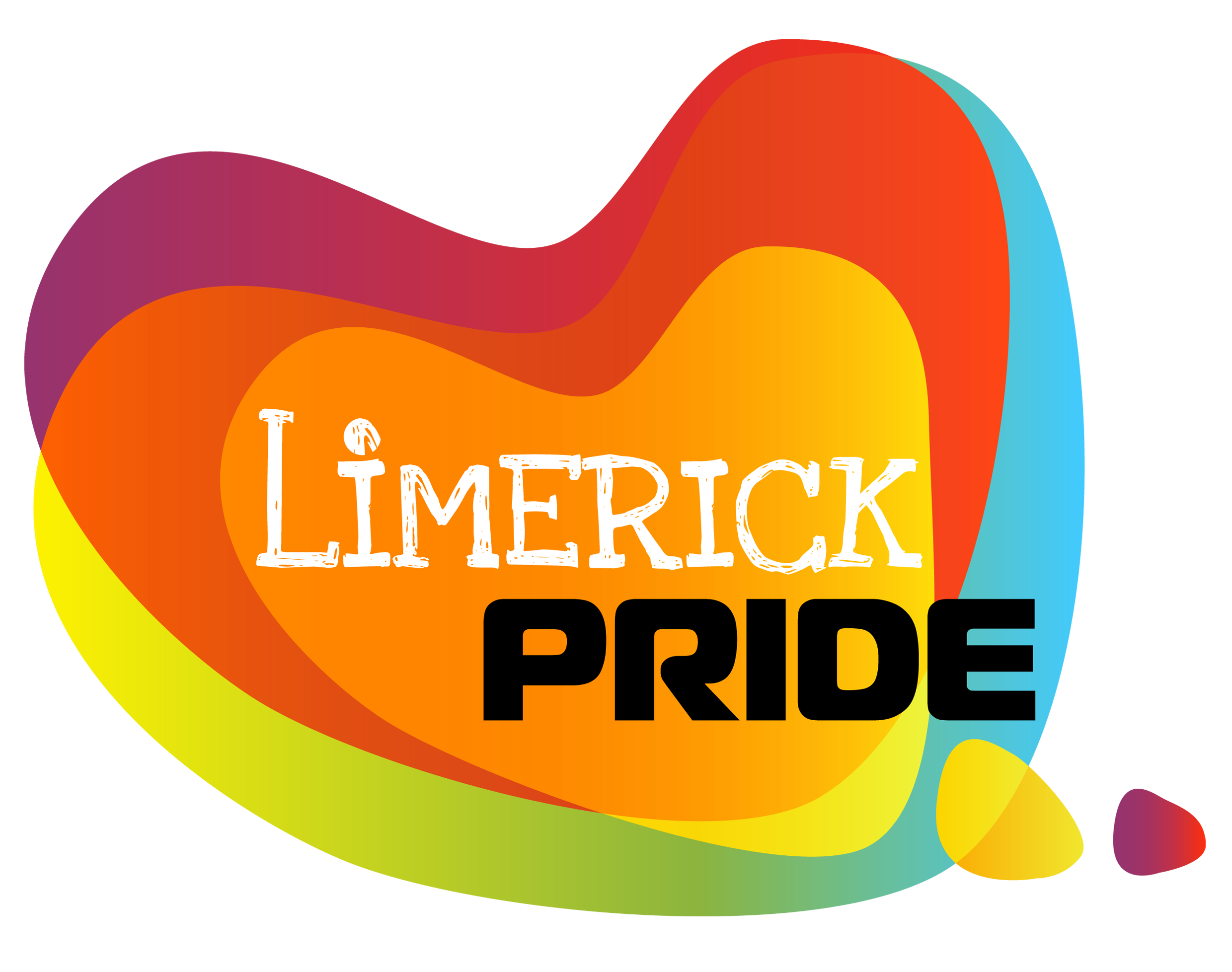 ---