OPEN MEETING
The next open meeting of Limerick LGBTQ Pride Festival, will be on Tuesday the 7th of May, at 7pm in the Friends of the Elderly on Carey's Road. Don't forget that you can stay up to date with what's going on by signing up to our Newsletter on our Facebook page. We're looking forward to seeing you all there.
Constitution under development
We are currently reviewing the Constitution of the Limerick Pride festival and advise that you check out the dedicated page on our website. There is a great deal of information to be gone through and the process is ongoing.
GAY PROM / DEBS NIGHT
We have been approached by a hotel who are extremely interested in putting on a GAY PROM, and we would love to make it happen this Summer. Expect an update in the coming week!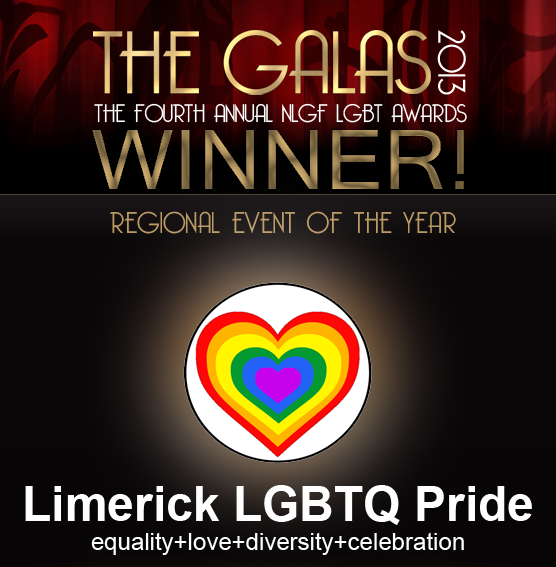 ©
Limerick LGBTQ Pride has won a GALA award in the Regional Event of the Year category! The GALAS have been set up by the NLGF to honour lesbians, gay men, bisexuals and transgendered people and organisations for their contributions to Irish society and this is the first win for Limerick Pride.
Pride would like to extend our congratulations to the 2012 committee for their amazing work last year. This is fantastic for the profile of the festival as it grows annually and honours the passion and determination of the Limerick LGBTQ community and its supporters each year to make Pride happen. The GALA awards were held on February 23rd, 2013 at 7.30pm in The Westin Hotel, College Green, Dublin 2. For more information go to www.galas.ie
Limerick Pride is a volunteer led, not for profit collective, working to promote positive visibility of LGBTQ people and their community in Limerick.
Stay tuned for details on our upcoming open meetings and for more on how you can get involved with making 2013 an amazing festival year!